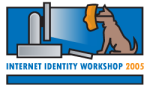 The program for Day One (Oct 26th) of the Internet Identity Workshop has been published. I'm very excited about it. I think it's a great line-up and will give us a chance to see many of the major systems and ideas around Internet Identity side-by side.
The schedule for Day Two is open, being run as structured open space. As such, we're collecting topics and presentations for Day Two, but we'll decide on the schedule as the first order of business on that day.
As you can see, we also have a Bryant Cutler-designed logo. Feel free to use it in promoting the workshop.
If you're not registered yet, it's not too late. I hope to see you there.