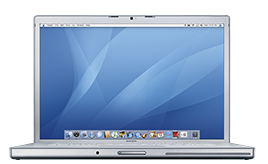 One problem with life on the bleeding edge is that there isn't as much infrastructure built up and parts are scarce. Take Apple's MacBook Pro, for example. I've got a gleaming example sitting by my desk that I've been playing with for a few days. It's very fast at some things and Rosetta works well. Too well, perhaps. You might forget to upgrade some G4 apps to native ones because they still work passibly. But, that's another story.
Two problems I've run into so far. First, Apple switched to SATA drives for the MacBook Pro. That probably gave them some advantages in manufacturing, but it severely limits choices of drives. There's a nice 160Gb IDE hard drive available, but the only 160Gb SATA drive I've been able to find (from Fujitsu) runs are 4200 RPM.
Similarly, I've wanted to get an EVDO card for sometime and was about to pull the trigger when I remembered that the MacBook Pro uses the ExpressCard/34 instead of having a PCMCIA slot. Newer, smaller, fancier--I'm sure--but there are thousands of PCMCIA cards out there that are now no use. I've got several for media cards and such that I won't be able to use any more. There's hope that an EVDO card for ExpressCard/34 will be available "real soon now," but who knows what getting it to work will entail.
Nevertheless, I'm not going to give the MacBook Pro back. After all--I'm just crazy enough to like these little challenges.