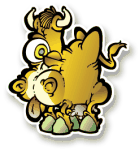 Marion Berry is the representative for the Arkansas First District in Congress, and the opening keynote at today's meeting. He seemed passably informed on identity issues, noting how important identity is in modern society. He's a supporter of the Real ID act, which makes me wonder whether he understands the implications of identity policy.
He took questions at the end of his talk. One questioner asked him to respond to Arkansas farmers opposition to cattle tagging. I wasn't aware of the issue before. The program is part of some federal effort to track food supplies.
I've written about this program before, nicknaming it "cowster" at the time. The issue may seem silly at first--who cares about the privacy of cattle--but it's actually an issue of commercial information and trade secrets:
Critics of premises ID include Jane Williams of Dardanelle, a founding officer of the Arkansas Animal Producers Association, who opposes premises ID because she said those who control the information will control the market.

Apple said such mistrust of the system and federal intentions is common and not without cause.

"Producers don't trust each other, the state or the federal government. They have been burned before and when they hear stories reported in the media of lost or compromised data, what are they supposed to think?" Apple said.

Arkansas Agriculture Secretary Dick Bell has said the he thinks information confidentiality is the biggest concern surrounding premises ID.
As I said back in 2003, I think you could come up with a distributed system that allowed tracking and preserved the privacy of the data.