Summary
After 3300 shows, the time has come for IT Conversations to end. While I'll miss it, I'm proud of what we've accomplished and will be grateful for the friendships I've made and skills I've developed.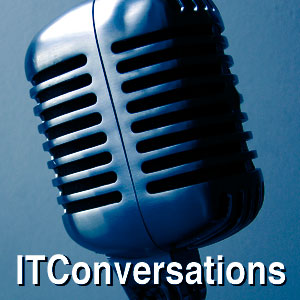 In 2006, Doug Kaye asked me to take over for him as Executive Producer for IT Conversations. I was honored and have done the daily tasks of producing the Web's oldest, continuously running podcast ever since. Since it's inception, IT Conversations has published over 3300 audio programs. After ten years of operation and six years with me at the helm, all that is coming to an end. Doug has decided, and those of us involved in the day-to-day production have agreed, that IT Conversations has run its course. We will continue to publish shows until around December 1, 2012. We're going to get the very best of what's left in the queue out the door before we turn out the lights.
The good news is that Conversations Network (the parent organization for IT Conversations) has money to keep the site and shows online for a good while and we're making arrangements to create a permanent archive that will live on at the Internet Archives. We'll also maintain a URL redirector to ensure that the exiting links continue to work far into the future. The goal of IT Conversations has always been to give a permanent home to audio programs that were not only worth hearing now, but might also have value in the future. Doug and the rest of us are committed to that goal even as we all move on.
I'm grateful to have had the chance to work on something I consider important, meaningful, and long lasting. I think the body of work will stand the test of time. More than that however, I've had the opportunity to work with many amazing people and establish friendships I would never have had otherwise. I'm especially thankful for Joel Tscherne (ITC's Senior Web Editor) and Paul Figgiani (ITC's Senior Audio Editor) who've made the years at ITC doable and enjoyable. I've learned and grown. Thanks to Doug for his vision, leadership, and trust in me.
I'm going to miss working on shows and I'm going to miss the people I've met, both behind the mic and on the road. Several times, people have recognized me by my voice. That's always a shocker. I'm not sure what will happen with Technometria, the podcast I co-host with Scott Lemon. Right now, it's in limbo.
Not all good things come to an end, but many do. IT Conversations is a very good thing. But now, it's time to say goodbye.
Here's the letter Doug Kaye sent out to Conversations Network members.