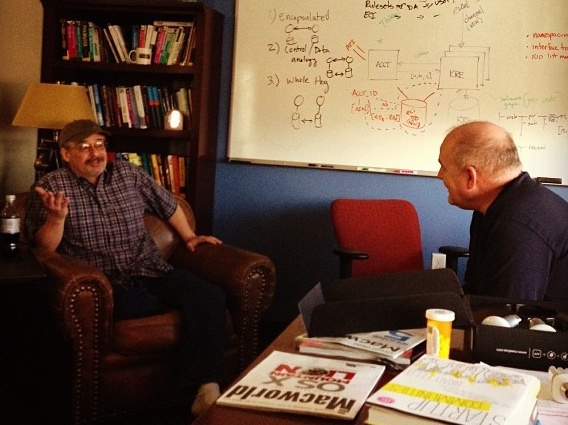 Ed Orcutt died on Monday morning of a long illness. Anyone who's come to a Free Lunch Friday or visited Kynetx knows Ed. Anyone who's used a Kynetx product in the last 3 years knows him, at least through his work. Ed was a great friend and an exceptional programmer. We're going to miss him very much.
Ed was my principal collaborator and the primary developer of CloudOS, the software layer that powers SquareTag, Fuse, and many other projects and products we've built. Ed designed and programmed the Intentcasting demonstration we built for Swift. He developed the DnB 360 product we sold to Dun and Bradstreet. Before that he was the developer of an app on the Kynetx browser extension, Hover Me, that had over 100,000 installs—our most successful KBX app ever. He helped me build several of the examples in my book.
Ed was a stalwart believer in what we were doing at Kynetx. He embraced the evented programming style and worked to extend our understanding of what it could do. Ed surprised me over and over with what he accomplished with KRL. His practical work often brought my theoretical vision to life. I will be forever grateful for Ed's faith in me and the vision we have for Kynetx.
Already we've had several of what I've started calling "Ed moments" where the natural reaction to something is "let's ask Ed". Of course, we quickly realize that we can't ask Ed anymore. Ed was such a pivotal part of what we do, I'm sure there will be many more of those.
Thanks for being part of Kynetx and part of our lives, Ed.
About the picture: This photo shows Ed and I in a discussion about CloudOS in my office at Kynetx about a year ago (Dec 1, 2012).